Flagship three-way floorstander
The largest model in the R Series combines four bass drivers and the latest generation Uni-Q for a powerful and refined sound

With hybrid aluminium bass drivers and a 12th generation Uni-Q for mid and treble the mighty R11is extremely capable. Using technology from KEF Reference it delivers clarity, finesse and serious bass.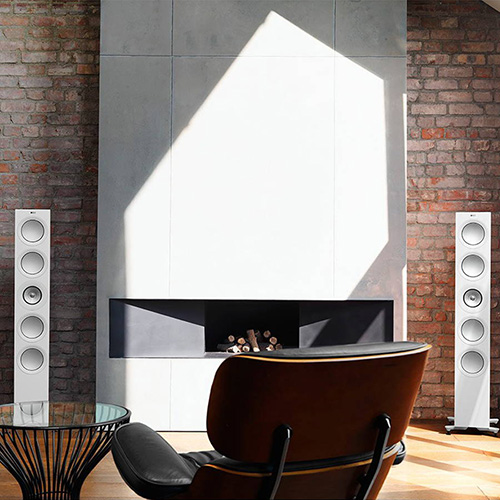 The Details
---
SPECIFICATIONS
Weight
37.7 kg (83.1 lbs.)
Dimension (HxWxD)
1249 x 200 x 383.5 mm (49.2 x 7.9 x 15.1 in.) with terminal*
Dimension (HxWxD)
1295.5 x 310.6 x 383.5 mm (51 x 12.2 x 15.1 in.) with terminal with Plinth*
Dimension (HxWxD)
1249 x 200 x 360 Cabinet only
Design
Three-way bass reflex
Frequency Range
30Hz-50kHz (-6dB)
Typical In-Room Bass response
26Hz (-6dB)
Frequency Response
46Hz-28kHz (±3dB)
Harmonic Distortion
<0.3% 120Hz-20kHz (90dB, 1m)
Amplifier Power
15-300W (recommended)
Nominal Impedance
8 Ohms (min.3.2Ohms)
Drive Units
Uni-Q Driver Array:
HF: 25mm (1in.) vented aluminium dome
MF: 125mm (5in.) aluminium cone
Bass Driver
LF: 4x 165mm (6.5in.) hybrid aluminium
Crossover Frequencies
400Hz, 2.9kHz
Finishes
Black Gloss / White Gloss / Walnut
KEF reserves the right, in line with continuing research and development, to amend or change specifications. E&OE. * Measurement per unit
Great but needs a sub to be complete.
Great separation and imagining. Dynamics for days. Very transparent. It's a marquee speaker all and all. Feed it garbage, you will get garbage. Some songs you loved when you were young may not be so hot over these. That being said the only thing is, it lacks bass. It has bass, but it doesn't provide that body, envelopment , a dedicated subwoofer has. For instance hello by Adele. The intro is amazing breaths and everything are there. She's "right there" center stage. But when the beat comes in, it's a little empty. When I put my sub on, wow! I found that to be the case with most music genres. with this speaker. Any Hans Zimmer soundtracks forget about it without a sub. I had these for 8 months. So I spent a lot of time with them and faced the facts. Going back and forth with AB comparisons. Combine the R11s with a sub that measures well and you will be able to fully enjoy your music . No amount of power will let these play with the finesse or authority a dedicated subwoofer would. I hit 107db at reference 12 ft away. I got enough power.
R11
The r11s are unbelievable when paired with high power amps. Im feeding mine with 300 watts per channel and at high volumes is where the magic is. They just seem to explode when I raise the volume to a certain level, the bass really comes alive, giving you that in your chest feeling. I have them paired with kf92s but honestly I dont need the subs. Definitely give them high quality equipment and I guarantee you wont regret it
Awesome depth and clarity in sound
I bought this pair sound unseen during the pandemic based on many reviews read. At first I used them with a definitive mythos center and surround speakers. The R11s did take a few weeks to break in. I did use the bi-amp wiring connect from my amp. Once seasoned, they exposed the lack of clarity in the myths center speaker, so I acquired the R2C from KEF, and what a difference in the clarity and depth of sound. I later added the K92 sub to give me that extra bass dimension. What I can say most about the KEF speaker experience is the completeness and clarity of sound through the full range without the output being loud. That is a truly rare audio and theater experience. They are not cheap, but you will not regret the purchase.
Amazing!!
I have the entire R line up including the R11's for my 7.2.4 dolby atmos home theater setup. I love everything about these speakers. They look amazing and sound even better. I run them with the Denon avr-x8500h, which is beast!! Needless to say they shine bright and I'm a Kef fan for life.
Elegant and all-in-one system
Looks- This is hands down most beautiful speakers ever. Slim but the presence in a room is noticable and heavy too. There is a reason for being heavy because KEF put good stuff in there.
Sound- Great as stereo and so perfect that "you feel" there is a center channel, like you are in a concert. Some songs just blow your mind listening through it, like picking up details and gives you a headphone effect, for eg: Sicko mode by Travis & Drake. I listen to all genres except Hard rock and Country, so no comments on those, everything else it's amazing!
Loudness: I think you only need small amps to drive it because it's sensitive. I'm driving with a Denon av receiver, 105 watts per channel in stereo. If you calibrate through audessey and level up at 75db, you only have to go beyond 50% if you are having a party. I have never gone beyond 65% in fact because my house shakes with these stereo speakers. Great bass!
Price: First I though it's expensive with the specs in the sheet. But I was mistaken by it's real world performance. You cannot get such performing speakers for this price PERIOD