Features KEF's patented Uni-Q driver array
The stylish Ci130QS's thin bezel and narrow rim allow for flawless visual integration into your wall or ceiling. KEF's patented Uni-Q driver spreads sound over a wider area enabling you to use less speakers and still experience an even sound-stage.
Ci130QS
Featuring KEF's sophisticated 'sit anywhere' Uni-Q driver array, which places the tweeter in the acoustic centre of the bass/midrange cone, this allows both the tweeter and woofer to act as a single point source that disperses the sound widely and evenly throughout the room. Together with the discreet Ultra Thin Bezel (UTB) design, offering the slimmest possible visible rim around the speaker, the Ci Q Series range gives you tremendous freedom to position the speakers where you please.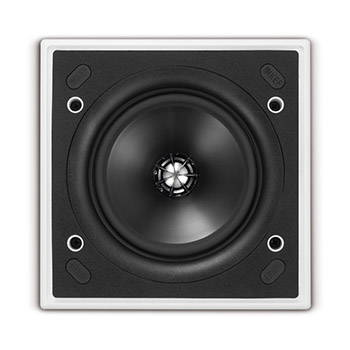 Fast and Easy to Install
KEF's Ci loudspeaker design makes them so quick and easy to install that once the wire is run and the hole is cut in your wall or ceiling you can be listening to music in less than two minutes.
The Details
Specifications
Sensitivity
87dB (2.83V/ 1m)
Crossover Frequencies
3.8kHz
Frequency Response
45Hz - 34kHz (±6dB) open backed
Drive Units
LF: 130mm (5.25in.)
HF: 19mm (0.75in.) Uni-Q
Recommended Amplifier Power
10 - 100W
Product External Dimension (H X W X D)
184 x 184 x 84 mm (7.24 x 7.24 x 3.26 in.)
Cut-Out Dimensions (H X W)
158 x 158 mm (6.22 x 6.22 in.)
Mounting Thickness
Ceiling Thickness (Maximum): 24mm (0.95 in.)
Ceiling Thickness (Minimum): 6mm (0.24 in.)
Mounting Depth From Surface
77.9mm (3.07in.)
Optional Rough In Frame
RIF130S
Optional Rear Enclosure
RNC130S
KEF reserves the right, in line with continuing research and development, to amend or change specifications. E&OE.
Ok, Update time!!
Ok, Just added 2 more C130q as front height and upgraded to Denon avr3700 w/additional matching Sub, WOW! KEF & system is rockin!!!
Ci130qs
So I finished my basement with the intent of using hanging cube speakers as rear surrounds so I installed j boxes to mount brackets. But after listening to some of them I was really unimpressed. So I was looking for a sqaure ceiling speaker that I could use in the sqaure holes I have already put in the ceiling. I have to say I had a hard time finding much on these speakers on the internet besides typical specs, but they were what I was looking for and some people seem to like them. I installed them yesterday and first of all A+ on packaging I love when products are package well nothing worse than waiting for some item and it shows up damaged so kudos! Next them product was manufactured very well fit and finish was top notch. Easy installation they sound great and look great. The only negetives are they are a bit pricey and sensitivity is a little less then I was looking for. All in all pretty happy so far plannig on getting two more for side channles. p.s. I have a RX780 Yamaha reciever with psb alpha 5 front and center channels and a pb1000 svs sub.
Would definitely recommend.
I use these as rear channel, along with in ceiling and an 8003 sound bar, all matching Q's. Running Dolby Atmos with Onkyo NR 737 & Definative Super Cube.
Love it!
Excellent discrete speaker
Using these for the rear channels in a home theater set up. Good complement to the Qseries front channels and a great way to complete the system in a visually discrete way. I don't need more bass since the sub handles it. Recommend.