The Ultimate Wireless HiFi Speakers
LS50 Wireless II is more than a high-performance loudspeaker; it's the perfect all-in-one speaker system, streaming from any source thanks to wireless compatibility with AirPlay 2, Chromecast and more, plus wired connections for your TV, games console and turntable. Great sound, no strings attached.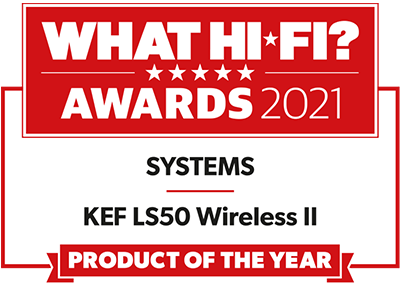 WHAT HI-FI? AWARDS 2021 -  'PRODUCT OF THE YEAR'
"These sequels are among the most thrilling speaker systems we've heard." - October 2021, What Hi-Fi?

FULL REVIEW
---
Freedom
All the music, all the time
Play all major music services and supports all major audio formats
Wireless both from source and between the speakers
Comprehensive applications and connectivity
---
User-Centred
Let you be you
Intuitive on-boarding with user-centred features
Personalised listening experience via KEF Connect App
---
Performance
Most accurate,immersive sound.
Metamaterial Absorption Technology for pure, natural sound
12th generation Uni-Q with MAT for exceptional acoustic accuracy
Music Integrity Engine for rich, full-bodied sound
System power: LF 280W class D, HF 100W class A/B, Max. SPL: 108dB
---
Design
Attention to every detail
Optimised cabinet design for best acoustic performance
Available in 4 finishes
With mounting inserts to secure on KEF S2 Floor Stand (available as separate item)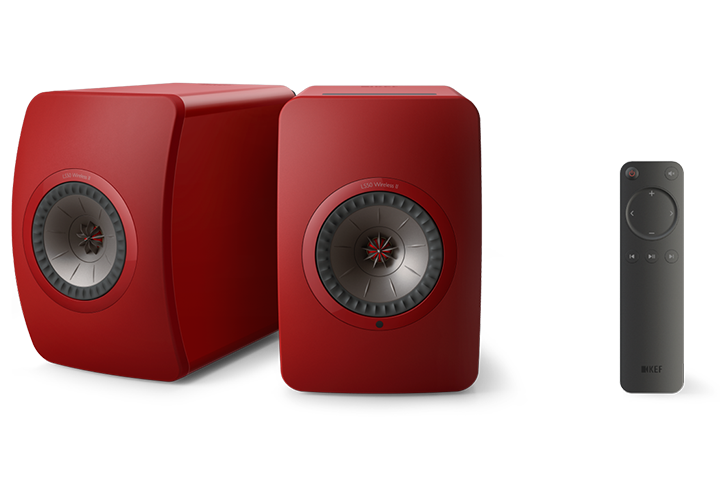 What's in the box
LS50 Wireless II
Remote control
Interspeaker Cable
Power cord
Quick Start Guide, Warranty
*Contents and colour vary by region
The Details
---
SPECIFICATIONS
Drive Units
Uni-Q Driver Array:
LF: 130 mm (5.25 in.) aluminium cone
HF: 25 mm (1 in.) vented aluminium dome with Metamaterial Absorption Technology
Frequency Range (-6dB) Measured at 85dB/1m
40 Hz – 47 kHz
*Depends on EQ settings
Frequency Response (±3dB) Measured at 85dB/1m
45 Hz – 28 kHz
*Depends on EQ settings
Amplifier Output Power (Per Speaker)
LF: 280W
HF: 100W
Amplifier Class (Per Speaker)
LF: Class D
HF: Class AB
Max SPL Measured at 1m
108 dB
Wireless Streaming Features
AirPlay 2
Google Chromecast
ROON Ready
UPnP Compatible
Bluetooth 4.2
Source Resolution
Network up to 384kHz/24bit Optical up to 96kHz/24bit
Coaxial up to 192kHz/24bit
HDMI up to 192kHz/24bit

*Depends on source resolution
Interspeaker Connection
Wireless: all sources resampled to 96kHz/24bit PCM

Wired: all sources resampled to 192kHz/24bit PCM
Supported Format (All Inputs)
MP3, M4A, AAC, FLAC, WAV, AIFF, ALAC, WMA, LPCM and Ogg Vorbis
Home Automation System
Elan, RTi, Crestron Home, Savant, Control4, URC
Supported Format (Network)
MQA
DSF: DSD64, DSD128
DFF: DSD64
Dimensions (HWD per Speaker)
305 x 200 x 311 mm (12 x 7.9 x 12.2 in.)
Power Input
100 – 240VAC 50/60Hz
Power Consumption
200W (operating power)
<2.0W (standby power)
Streaming Services
Spotify via Spotify Connect
Tidal via Tidal Connect
Amazon Music
Qobuz
Deezer
QQ Music via QPlay (coming soon)
Internet Radio
Podcast

*Depends on services availability in different countries
Primary Speaker Inputs
HDMI eARC
TOSLINK Optical
Digital Coaxial
Analog 3.5mm Auxiliary
USB Type A (service)
RJ45 Ethernet (network)
RJ45 Ethernet (interspeaker)
Output
RCA Subwoofer output
Wi-Fi Network Frequency Band
Dual-band 2.4 GHz / 5 GHz
Secondary Speaker Inputs
USB Type A (service)
RJ45 Ethernet (interspeaker)
Output
RCA Subwoofer output
Metamaterial Absorption Technology is a joint development with Acoustic Metamaterials Group.
---
AWARDS & REVIEWS
---
Instructional Videos
Simple Home Cinema Setup with TV
EQ Settings (Normal mode)
EQ Settings with Subwoofer
---
*Almost* Perfect Wireless Speakers
This is my second pair of KEF active speakers - before this, I had the 1st gen LS50W.
The reason I upgraded is largely the reason these are almost perfect speakers - the real-world usability of the wireless function was (1st gen) and remains (2nd gen) a problem, it just manifests in different ways.
But first, the sound quality - these and their passive brothers are bar none the best-sounding speakers I've heard under $5k, and anyone dissing them is being contrarian to get attention. Smooth, airy, robust, deep, delicate, loud-and-in-your-face when you need it. The only shortcoming is that since they're bookshelf speakers they'll run out of steam around 55 hz which is why you benefit from a subwoofer for the true wall of sound feeling at reference levels. I use a REL T9/x with the Arrow Wireless adapter. But if you haven't heard these with a subwoofer then you won't miss it, it just adds even more to an already big sound, making them seem even bigger than they are. More like top-end floor standers.
Now, the annoying part - the real-world usability of the wireless functionality in this latest model remains an issue for me in my room. But it is a huge improvement over the last gen. Basically, imagine a very capable, small, and young team of programmers owning the end-to-end product and you're probably right. That doesn't really make sense because behind KEF is a multi-billion dollar company - they should be able to get this right. Examples:
5g and 4G networks - most modern modems broadcast 4G and 5G signals, and most modern phones such as iPhones switch back and forth between them depending on which signal is strongest. The KEF's do not, they connect to one or the other in onboarding, and when using the Wi-Fi feature you can only control them on a device connected to the same 5G OR 4G connection - not both. Real-world, that translates to losing control of the speakers, ALL THE TIME, or any time your phone switches between 4G and 5G signals. KEF recommended connecting them with a hardline to my modem, but one that eliminates the wireless functionality, and two I rent and my landlords provide the internet - it is strong enough but I don't have a modem to physically connect to in my unit.
Proximity to other devices - these are also connected to my Google TV using the HDMI e-arc, it's a physical connection I can live with because it allows you to control the TV volume using the TV remote, which is nice. The problem is, my speakers make an occasional popping noise when connected to the TV with HDMI, which concerns me, to say the least. KEF support has delegated to me what feels like a piecemeal laundry list of things to check, including a reminder that wireless devices near them could disrupt the signal. Seriously? You designed the speakers specifically for use with and near a smart TV. They also asked me to try connecting the speakers to each other with the provided ethernet cable, another sacrifice to the design brief's wireless functionality that adds no ease of use like the HDMI e-arc. Needless to say, I ran out of time and patience for the KEF man given my history of dealing with their customer service unsuccessfully with the 1st gen of these speakers. I'm a busy guy despite this long review and just need them to WORK. But they don't, not consistently. That translates to me mostly using them to watch TV using the HDMI e-arc, which is reliable despite the occasional popping noise that makes me worry about their longevity and safety.
So, my advice is this - if you're looking for the best bang for your buck in the wireless speaker area then this is it. If you're young, you have time to and enjoy troubleshooting new and slightly undercooked technology, then you may be OK. But if you're like me, you just want to stop problem-solving when you listen to your speakers after a long day of doing that at work. In that case, I would look to passive alternatives from KEF and build a system from the ground up. Yes, it's more expensive, yes it's more work to match systems, yes it's less tidy, and yes it's less innovative, but it will work and you'll be able to enjoy that killer sound.
My two cents. Happy listening.
Just do it! Get them!
I'm not typically the kind of person to take the time to write a review; however, I felt obligated to take some time to express my love for the KEF LS50 Wireless II speakers because in short, they blew me away.
I have been considering getting these speakers for a considerable amount of time, but was deterred due to the price. I'm here to tell you that I don't regret it one bit. From sound, functionality, design, to accessibility they really hit the mark.
I've been using them for nearly 2 weeks at this point, and I have been sampling music to hear how they handle different genres, and I'm quite impressed how they can handle a diverse music selection. The component of these speakers that I'm most impressed by is their capability to create a solid sound stage. They have the capability to fill a room with clean sound, but sitting in the sweet spot is a luxurious experience. The vocal presence is perfectly centered, and highlighted by a supporting spacious sound for the ambient noise.
There's other speakers that I would recommend for a larger space, but if you're looking for a punch in a small package for tighter space these should be your go-to speakers hands down!
If you're thinking about it, just do it.
KEF LS50 Wireless II + Schiit HEL = Desktop Ear...
Since the pandemic, I'm at my desk 8-9hrs a day. Music is what gets my day by faster and I concentrate better with good music jamming. So I upgraded my desktop setup in 2020, Schiit HEL connected to Kanto YU6 and Grado RS2e + mic for conference calls.
My setup was great, but the weak link was the Kanto. While it serves its purpose for a budget desktop speakers, the clarity and muffled mids shallow bass didn't get my feet tapping. So I ended up using my Grado headphones more.
I decided to check out what the hype is all about and bought the KEF LS50 Wireless II connected to my Schiit HEL which connects to my work device. The first few tracks I played via Spotify desktop app at high resolution setting: Metallica Nothing Else Matters, ATB 9pm, Boyz II Men On Bended Knee, Birdman Lil Wayne Leather So Soft, Fleetwood Mac Dreams, and Enimem Stan.
I'm simply blown away. In Eminem Stan, you feel like you're in the thunderstorm and can hear every rain drop and subtle sounds that you cannot pick up unless listening with high end headphones. In Metallica Nothing Else Matters, you can head the fingers sliding up and down the electric guitar neck and strings being plucked which is hair raising good. These speakers disappears if you close your eyes, you're swimming in the sound and cannot detect where the highs and mids are coming from. Simply amazing disappearing act.
Onto the bad. Air Play 2 with my iPhone 12 Pro skips lightly (not everyone can detect this, but I have keen ears), so I stop using the wireless feature. Just connect it straight to your TV or laptop via Schiit DAC to get the most out of this. If you really want to play music via phone, get a good streamer DAC to connect to this like Cambridge CXN or Denon HEOS. Obviously KEF is a speaker company, the amp in these are proper, but the DAC / wireless portion is OK.
What's next: I plan to add SVS SB1000 Pro under my desk, that will cover the lower frequency. But I'm not too in a hurry to do so as the KEF LS50 Wireless can hit down to 40hz, which is 10hz lower than any Kanto or AudioEngine desktop setup.
If you're looking at this and have the budget, just pull the trigger. This will last you for decades.
Wow!
Been an music/audio fan for more than 50 years. Have had Magnepans, Audio Research, Vandersteen, Martin Logan, Rogers LS3/5a, Acoustic Energy, Leach, etc. Never have I experienced such an incredibly easy to set-up, wonderfully sounding system. It is still possible that it cannnot quite get to the easy natural sound of well-executed analogue, but I have thrown in the towel on that and feel, as yet, no regrets. These can be strongly recommended to anyone with moderate volume needs and moderate bass needs no matter the budget. Very few speakers in my experience can trump these on the human voice!
Best all-in-one speaker
I owned the previous generation very well reviewed LS50W speakers. Unquestionably, Kef made sonic improvements across the board. Before retiring to an apartment, I had great sounding expensive component equipment. From a value perspective, Wireless II's are unmatched. Without an external DAC, I stream Tidal and flac music files from my phone. Using the HDMI connection via eARC, I have quality external TV speakers. Moreover, having added the KC62 subwoofer, Bach's Tocatta in Fugue never sounded better!