The World's First Speakers with Metamaterial
LS50 Meta is a highly precise, emotionally engaging loudspeaker built on revolutionary acoustic technology. Designed around the Uni-Q 12th Generation with Metamaterial Absorption Technology driver array, this solid, compact loudspeaker is capable of delivering detailed sound anywhere in the room.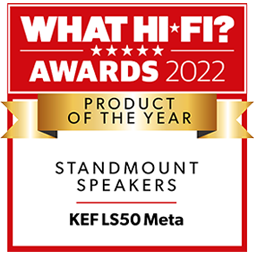 WHAT HI-FI? AWARDS 2022 - PRODUCT OF THE YEAR
"KEF has taken an excellent speaker and made it even better with its innovative Metamaterial tech. The LS50 Meta are now the class leader at this level." - October 2022, What Hi-Fi?
FULL REVIEW
---
Performance
Most accurate, immersive sound
Metamaterial Absorption Technology eliminates 99% of high-frequency distortion for pure, natural sound
12th generation Uni-Q with MAT driver array for exceptional acoustic accuracy
Driver Performance Optimisation for enhanced sonic performance, less distortion and reduced coloration
Patented off-set flexible port for reduced midrange coloration with exceptional levels of depth and detail
---
Design
Attention to every detail
Optimised cabinet design for best acoustic performance
Available in 4 finishes
With mounting inserts to secure on KEF S2 Floor Stand (available as separate item)
The Details
---
SPECIFICATIONS
Design
Two-way bass reflex
Drive Units
Uni-Q Driver Array:
HF: 25 mm (1 in.) vented aluminium dome with Metamaterial Absorption Technology
MF/LF: 130 mm (5.25 in.) aluminium cone
Crossover Frequency
2,1 kHz
Frequency Range (-6db)
47 Hz - 45 kHz
Typical In-room Bass Response (-6db)
26 Hz
Frequency Response (±3db)
79 Hz - 28 kHz
Harmonic Distortion (90dB, 1m)
<0,4% 175 Hz - 20 kHz
<0,1% 300 Hz - 10 kHz
Amplifier Power (Recommended)
40-100 W
Nominal Impedance
8 Ω (min. 3,5 Ω)
Sensitivity (2.83V/1m)
85dB
Weight*
7.8 kg (17.2 lbs.)
Dimension (H X W X D) With Terminal*
302 x 200 x 280.5 mm (11.9 x 7.9 x 11.0 in.)
* Measurement per unit
Metamaterial Absorption Technology is a joint development with Acoustic Metamaterials Group.
---
AWARDS & REVIEWS
---
EXCEPTIONAL VALUE AND STELLAR PERFORMANCE
These "METAS" have gorgeous UPPER RANGE with a lot of detail and tremendous transparency. The treble is not bright or fatiguing or analytical, but splendidly musical and engaging. In the past, two decades ago when I started buying audiophile equipment, this upper range would be unthinkable in the speakers of this price range. These "Metas" have also very good (but not exceptional) MIDRANGE and pretty good BASS for such small size speakers. The bass can be easily enhanced by a subwoofer, like KEF KC62 or even the larger KF92.
In 2002, I bought Monitor Audio best speakers at that time, Gold Reference 60 and Gold Reference 20. Driven by my Musical Fidelity A300 amplifier, they delivered a very nice, warm, simply splendid midrange. If KEF LS 50 Meta were able to get such similar, musically amazing, midrange, along with their already amazing upper range, they would be my perfect speakers. Regrettably, KEF has 'meta' technology in these LS50 speakers and then only in their Reference range that starts with the smallest, a standmount model "REFERENCE 1 Meta" for 9K… out of range for most of us.
Interestingly, on KEF website, a reviewer noticed on Reference I Meta speakers: "IF GOD SPOKE - THESE ARE THE SPEAKERS HE WOULD USE TO BROADCAST HIS VOICE." I believe I get his point. I hope one day KEF will do something "in between": a larger version of "LS50 Meta", with more high end midrange, and more bass. I would wait for such speakers, willing to pay for them even half way between LS 50 Meta for 1.6K and the Speakers of God for 9K. In the meantime, I will enjoy these small wonders of LS50 Meta, but eagerly looking forward to hear, one day, the voice of God from the higher end KEF speakers.
Amazing example of KEF's know how!
I have been a fan of KEF speakers for about 40 years now. My original KEF's were the fantastic Reference 104aB's! Recently I have had floor standing speakers (R700's, Magnepan's) but I have wanted to get a smaller speaker that are easier to live with. I was afraid that I would not get the same enjoyable listening experience with a small speaker.
After reading and watching several reviews and doing my own research I decided to give the LS50 Meta's a try. I have been missing KEF after getting a pair of Magnepan speakers to replace my KEF R700's. I also matched them with the S2 stands and they are simply a gorgeous design. They fit very nicely in my room and work incredible with my other gear. I power them with an MBL amplifier and they seem to like the quality power.
They are just now breaking in and I am really loving them! Recently reading the white papers on the speaker; I am once again impressed with the technology KEF puts into their speakers. A friend who owns a pair of Blade 2's was telling me about a comparison that KEF ran at a show that he attended. I said that I wish KEF would release the Blades in a stand mount version. He responded that they have, it is called the LS50 Meta's. I now understand what he is talking about.
I have never experienced a speaker that complete disappeared and just plays music like the KEF LS50 Meta's. Paired with a subwoofer(s) I believe it would be hard to find a more enjoyable speaker for my use.
Thank you KEF!
Outstanding clarity
I really crave clarity in my music. Some others do no. These are perfect for me. For $1500 they are a steal.
Amazing Bookshelf Speaker!!!
The sound is just impressively clear and rich across all ranges of listening. The LS50 Meta's never struggle to give a exceptionally detailed and tonally warm sound which I absolutely love. I smile every time I listen to them, and haven't found a single thing I don't like about them.
They look beautiful aside from their amazing sound, which is always nice. I can't say anything bad about these speakers and will happily hang on to them regardless of whatever other speakers I buy in the future (floor standing or tower that is).
The LS50 Meta are simply great speakers!
They truly are special.
Awesome speakers!
These speakers are awesome! I have them hooked up to a 45 year old Heathkit reciever and the sound very tight with great range. Cant believe the sound the are able to produce. So glad for my purchase!