September 3rd through October first, purchase a KC62 and receive a FREE KW1 Wireless subwoofer kit.
The Biggest Small Subwoofer
KC62 is an incredibly compact subwoofer that delivers the might and magic of deep, accurate bass for a thrillingly immersive music, movie and gaming experience. Created using innovative KEF engineering including the ground-breaking Uni-Core® technology, the football-sized KC62 features two 6.5inch force cancelling drive units powered by 1,000W RMS of specially designed Class D amplification.

STEREONET PRODUCT OF THE YEAR AWARDS 2021 - SUBWOOFER
"It looks great, doesn't take up much space (at 246x256x248mm) and packs 1kW of power from twin 500W Class D power amps. Its strong, light magnesium cabinet is a work of art, and it's a highly effective bass maker, punching out up to 105dB of tremulous low frequencies despite those diminutive dimensions." - StereoNET, Dec 2021
FULL REVIEW
Don't let the size fool you
Deep and powerful bass is no longer solely the domain of big-shouldered, massive subwoofers. KC62 is David to their Goliath; an ultra-compact subwoofer capable of delivering accurate, deep bass for an immersive music, movie and gaming experience at complete odds with its modest dimensions. And just as David beat Goliath, so KC62's performance renders these subwoofer behemoths obsolete.
Uni-Core® Technology
Craving an immersive entertainment experience but put off by bulky subwoofers? KC62's patented Uni-Core technology revolutionises the traditional force cancelling design to deliver deep accurate bass from an ultra-compact cabinet. Combining both drivers into a single magnet system allows cabinet size to be reduced by over a third, while also increasing excursion to unlock exceptional output and depth.
EXPLORE MORE
---
1,000W RMS
Turn up the Power
KC62's twin drivers are powered by 1,000W RMS (2 x 500W) of specially designed Class D amplification, providing exceptional levels of control and the ability to deliver sudden bursts of power when required, for example when enjoying your favourite high-octane action sequence.
---
5 Pre-sets
Same performance, everywhere
KC62 slips effortlessly into any environment or listening room, with the five pre-set Room Placement Equalisation feature ensuring the same performance no matter where you decide to place it; in free space, next to the wall, in a corner, nestled within a cabinet or using the dedicated apartment mode.
---
Well Connected
KC62's connection options allow it to be used with almost any audio system, with KEF SmartConnect and speaker level inputs eliminating any connection issues. Line output with High Pass Filter (HPF) allows for exceptional fine-tuned integration, and KC62 is also compatible with the KW1 for simple wireless compatibility. 
---
Design meets substance
Crafted from extruded aluminium, KC62's curved cabinet perfectly blends form and function, providing strength and beauty. Small enough to blend into any décor, the Carbon Black, Mineral White and Titanium Grey finishes also make KC62 an exceptionally attractive statement.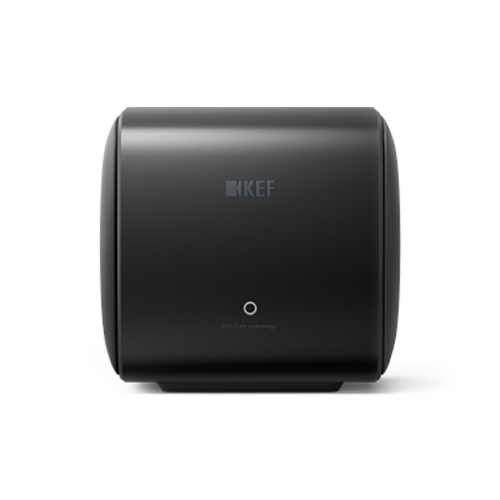 Accurate, deep bass with speed and power
Accuracy is a KEF hallmark, whether in full-range loudspeakers or in subwoofers dedicated to delivering sensational bass. An array of innovative technologies come together to ensure KC62's bass accuracy, including the P-Flex surround for precise driver movement and Smart Distortion Control Technology that reduces distortion, while performance is maximised via KEF's Music Integrity Engine.
P-Flex (aka Origami Surround)
The P-Flex driver surround has a unique pleated design inspired by Origami, the Japanese art of paper folding, engineered to better resist the acoustic pressure in the cabinet to allow the driver to move more precisely compared to traditional surround designs. The result is deeper bass extension and a more accurate and detailed bass reproduction.
The right subwoofer for you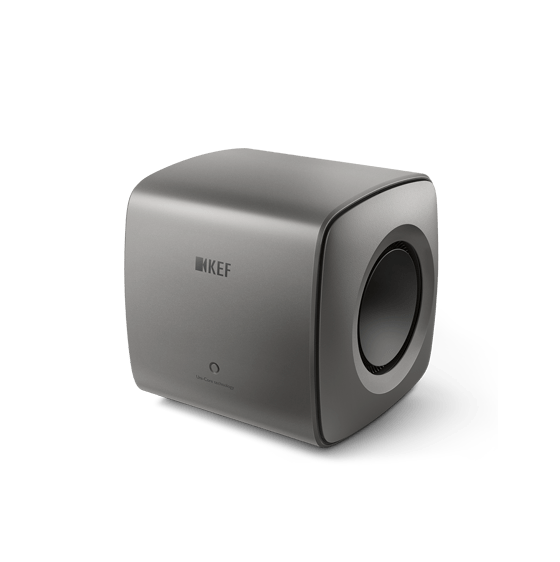 KC62
Subwoofer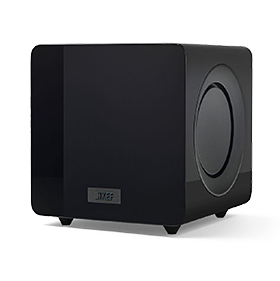 KF92
Subwoofer
---
The ultra-compact subwoofer that maximises bass from minimum space
The cabinet volume is 63% smaller than KF92
The perfect balance of compact size and impressive performance
Max SPL is about 2 times louder than KC62
---
2 x 6.5"
Uni-Core force cancelling
---
---
110 dB
(about 2 times louder than KC62) equivalent to Live Rock Music
---
246 x 256 x 248 mm
(63% smaller in volume than KF92)
---
Frequency Response (-3dB)
---
---
See how it looks in your home
Not sure which colour to choose? Try our Augmented Reality function to check out how incredible KC62 will look and see which colour suits best in your home.
*Actual product colour may vary from the AR version shown. 
**This feature is not supported on Chrome for iOS devices.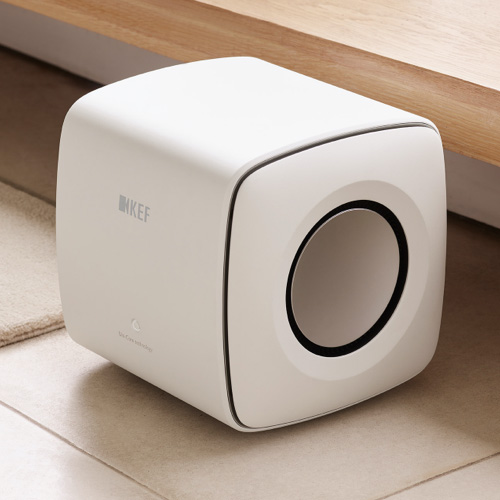 Experience
KC62 is a feat of engineering that far exceeds expectations. The best way to experience the unprecedented KC62 is up close and personal.
FIND A DEALER
The Details
---
SPECIFICATIONS
Design
Uni-Core Force Cancellation
Drive Units
2 x 6.5" drivers
Frequency Response (±3dB)
11Hz – 200Hz
Line Output
RCA phono sockets
Line Output High Pass Filter
40Hz – 120Hz, Bypass
Amplifier Type
Built-in Class D
Amplifier Power
1000W RMS (2 x 500W RMS)
Variable Low Pass Filter
40Hz – 140Hz, LFE
Input
RCA phono sockets
Speaker level inputs
Power Requirements
100 - 240V, 50/60 Hz
Dimension (H x W x D) with Rear Panel and Feet
246 x 256 x 248 mm (9.7 x 10.1 x 9.8 in)
Colour
Carbon Black
Mineral White
Titanium Grey
KEF reserves the right, in line with continuing research and development, to amend or change specifications. E&OE.
---
AWARDS & REVIEWS
---
Video
---
Price to performance/size is great
Just get it if you have a woman who doesn't want to see a subwoofer but still appreciates good sound. She will never ever question the money you paid for it once she watches her favorite movies or listens to her favorite songs. Do yourself a favor and finish your system with one of these endgame subwoofers.
KEF confronted the dragon and wisely made frien...
I am a retired Electronics Technologist. When I did a Duckduckgo search for
"Amazing Small Subwoofer" I began my investigation of KEF's KC62. I was convinced after reading the KEF whitepaper on the KC62 subwoofer that KEF engineers confronted the dragon and wisely made friends with him. Up to now, the term "small subwoofer" has been a contradiction in terms but KEF in developing the KC62 has come up with three patentable solutions to minimize resonance, vibration and distortion with full bandwidth at low to upper moderate listening levels. At high volume levels the lowest frequencies are rolled off to prevent drive motor clipping. My bedroom shelf 2.1 system is a Klipsch R41PM flanking the KEF KC62. The supporting shelf is reinforced with structural aluminum angle front and back to minimize sag. The R41PM recreates sound competently by itself, but adding the KC62 widens the soundstage to full double bass, synthesizer, kick drum and earthquake territory. It is indeed a pleasure to wake up to Deadmau5 & Kaskade "I Remember" and other cool tunes. Thank you KEF, you have made an old man very happy.
There is not another subwoofer this compact tha...
Has KEF hit another home run? I'd have to say unequivocally yes! This is an incredible subwoofer super compact yet with amazing extension, weight and power. It contains the force-canceling woofer alignment first demonstrated in the proof-of-concept Reference 107s and then in the smaller KEF Reference 104.2s and now seen in the Blades (which we own and love). I suspect they've done an amazing job with getting subsonic extension (rated down to 11 cycles!) through combining extra long excursion voice coils with compensatory boosting of bass signals below the dual woofer resonance points to virtually eliminate the intrinsic driver rolloff. And yes, consistent with the force canceling design, you literally cannot feel any cabinet vibration. Even when it's playing full-tilt boogie.
It is the perfect companion to either the less expensive KEF LSX or the Uber state-of-the-art LS 50s I or II. It fills in the bottom octave and change for the LS50s and the bottom two octaves for the LSX. It's very easy to set up, with the usual volume controls and adjustable frequency cutoffs points, option for phase inversion, and can be driven from either an LTE, from preamp outputs or even from line level speaker outputs.
It's capable of playing amazingly loud for such a tiny piece of equipment, but it's not cheap. You get what you pay for. Even in relationship to the full size Blades, it provides some useful augmentation down into the ultra low sonic and even subsonic range. If you really want to rattle your windows and doors in a very large room, you probably want to get the full size KF92. But if you're looking for something for a medium-sized room, a lanai, or even an intimate listening studio, you really can't do any better at virtually any price. If space is at a premium, this should clearly be on your shortlist. In short, it's the latest evidence that KEF is out in front technologically and simply leading if not lapping the field.
Pros:
1),Incredibly compact but powerful. Takes up almost no discernible space particularly relative to most subwoofers that will go anywhere near this low, but it will blow you away playing 20 to 30 cycle material. It seems impossible that that much low-end can come from that tiny box. There is no subwoofer this size that goes this low period!
2),Not just powerful but quite articulate. You can hear the bass line in the music emerging in a more discernible and articulate fashion. Really puts a great foundation back into music unless you been listening to huge speakers that extend at least down to 25 to 30 cycles.
3),Highly configurable with just about every option you might want.
4),Beautifully finished and obviously premium quality in terms of drivers, electronics, etc. obviously what you would expect from KEF . . . and at this price point.
5),The perfect complement for any satellite system lacking the bottom two octaves.
Cons:
1),It ain't cheap! And it's deceptively heavy! Don't ever try to pick this up with wet or greasy hands because its smooth contours will mean that you just dropped your brand new $1500 subwoofer.
2),Does not include a remote control or even a manual which might be nice again at this price point.
3),It's addicting! With the bottom octave now much more audible, you'll be tempted to play all of your music collection with low-frequency material and loud just to experience its weight and heft! Neighbors will likely not be happy. In an apartment building, that might even be a problem, as bass penetrates walls in a way that higher frequencies do not.