The benchmark of bookshelf speakers
The one standmount model in the Reference series could be the only loudspeaker you ever need. A three-way model boasting KEF's 12th generation Uni-Q® driver array with MAT™, Reference 1 Meta is capable of delivering expansive, high-performance sound that goes way beyond what its relatively compact size would suggest was possible.
Select a property
Select a property
Select a property
Select a property
Select a property
Select a property
Select a property
Select a property
Select a property
Select a property
Select a property
Select a property
The benchmark of benchmarks
Since 1973, The Reference has continually set the benchmark for loudspeakers and sound reproduction. Pioneering the use of digital technologies to achieve the highest audio accuracy, every pair can be matched within 0.5dB to the laboratory-maintained reference standard.
Always innovating
Since the first Reference speaker, KEF engineers have continued to innovate using what is possible with The Reference. Ground-breaking in its first incarnation, each subsequent iteration of The Reference has added to the world's knowledge of the science of acoustics.
Designed, engineered and handcrafted in UK
Since 1961, we have been creating remarkable award-winning loudspeakers at our UK home in Maidstone, Kent. As our flagship HiFi speakers, The Reference is still being designed, engineered, and handcrafted in Maidstone today.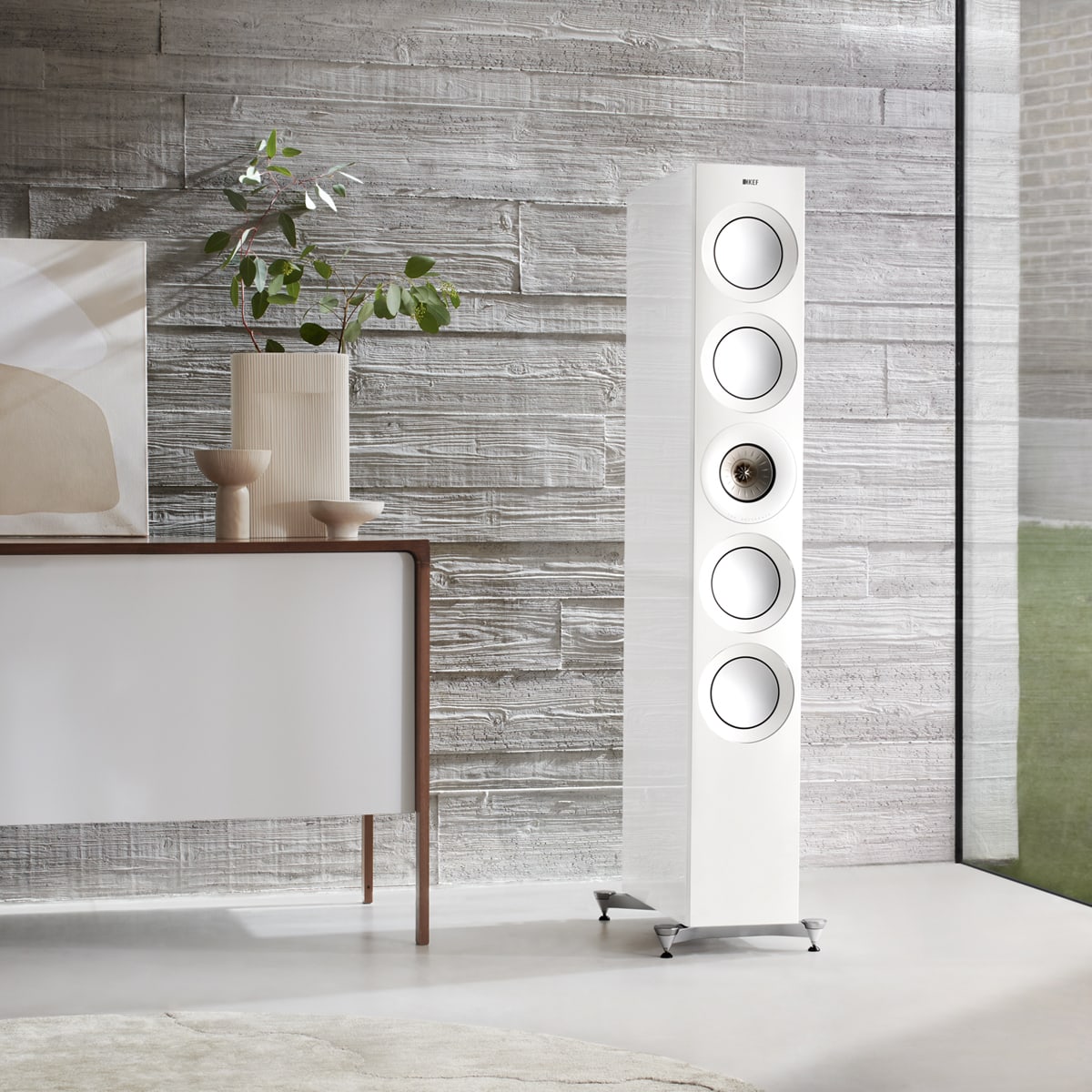 Listen and believe
The proof is in the listening. Hearing The Reference in all its glory is the only way to appreciate exactly what this loudspeaker is capable of.
EXPLORE MORE
The Details
---
SPECIFICATIONS
Design
Three-way bass reflex
Drive units
Uni-Q driver array:
HF: 25 mm (1 in.) aluminium dome with MAT
MF: 125 mm (5 in.) aluminium cone

Bass units:
LF: 165 mm (6.5 in.) aluminium cone
Frequency range free field (-6dB)
Short port: 40Hz -45kHz
Long port: 37Hz - 45kHz
Frequency range typical in room bass response (-6dB)
30Hz
Frequency response (±3dB)
45Hz – 35kHz
Crossover frequency
450 Hz, 2.1 kHz
Amplifier requirements
50 - 200W
Sensitivity (2.83V/1m)
85dB
Harmonic distortion 2nd & 3rd harmonics (90dB, 1m)
<0.5% 40Hz – 100kHz
<0.2% 200Hz – 2kHz
<0.1% 2kHz - 20kHz
Maximum output (peak sound pressure level at 1m with pink noise)
111dB
Impedance
4 Ω (min. 3.2 Ω)
Weight
18.2 kg (40.1 lbs.)
Dimensions (H x W x D)(with grille and terminal)
440 x 205 x 422 mm(17.3 x 8.1 x 16.6 in.)
Dimensions (H x W x D)(with grille, terminal & plinth)
N/A
---
Please visit our Product Support page for more details. KEF reserves the right, in line with continuing research and development, to amend or change specifications. E&OE.
If God could speak, this is how we would hear him!
The sound that emanates from these is as close to being in the recording studio or concert hall as one could get via recorded sounds. IF GOD SPOKE - THESE ARE THE SPEAKERS HE WOULD USE TO BROADCAST HIS VOICE. Why? Because they are absolutely stellar. Never in my dreams did I think I would ever acquire a pair of new KEF Reference speakers, Meta editions at that! I have the original LS50 (pre-Meta) and I always found their sound to be superior & brilliant, no matter the amp pairing. However they were a tad soft in the lower frequencies. These speakers don't just make up for that, they make the LS50's sound like a pair of old headphones that have gone through the washing machine. Simply stunning. Clairity I have NEVER heard in any speaker in my life.
I chose the high-gloss white and blue with the black stand. A gorgeous pairing.
Every aspect of these speakers is stunning. The finite details and its loud color choices are the icing on the cake. I recommend these to any and everyone. Save up. Take out a line of credit. Do what you have to do because these are the closest we will ever get to hearing GOD!